As organizations shift workload from traditional IT environments to the cloud, databases remain one of the most complex components of the tech stack to architect and operate. Databases are highly sensitive to IO tail latency, and traditional cloud infrastructure typically cannot deliver the microsecond latency needed for a great user experience. Volumez is an exceptionally good fit for cloud databases, providing mission-critical reliability and granular QoS that gives DevOps precise control of IO performance.
Run the most I/O intensive stateful applications on EKS with predictable, guaranteed performance and multi-zone resilience.
Supercharge your EC2 database servers, including Postgres, MySQL, MongoDB, and Oracle, with ultra-high performance block storage and lightning-fast snapshots.
Innovate faster with cloud-native agility. Every data path with Volumez includes enterprise-grade data services that automatically selects the most cost-efficient infrastructure for every application. Lightning-fast provisioning enables sophisticated deployment strategies that keeps your infrastructure moving at DevOps speed.
AWS offers two categories of block storage: Elastic Block Store and Instance Storage. Instance Storage provides direct access to raw NVMe media, which deliver exceptional throughput and latency, but the media are ephemeral and include no data services such as RAID and snapshots. Elastic Block Store is fully featured software-defined storage managed by AWS that provides data services and zonal resilience.
Volumez allows customers to access the exceptional price-performance of Instance Storage by composing a pure Linux data path on application servers that stores data directly on slices of Instance Storage media. Volumez recommends Is4gen.2xlarge, i4i.4xlarge and i3en.3xlarge instance types for instance storage.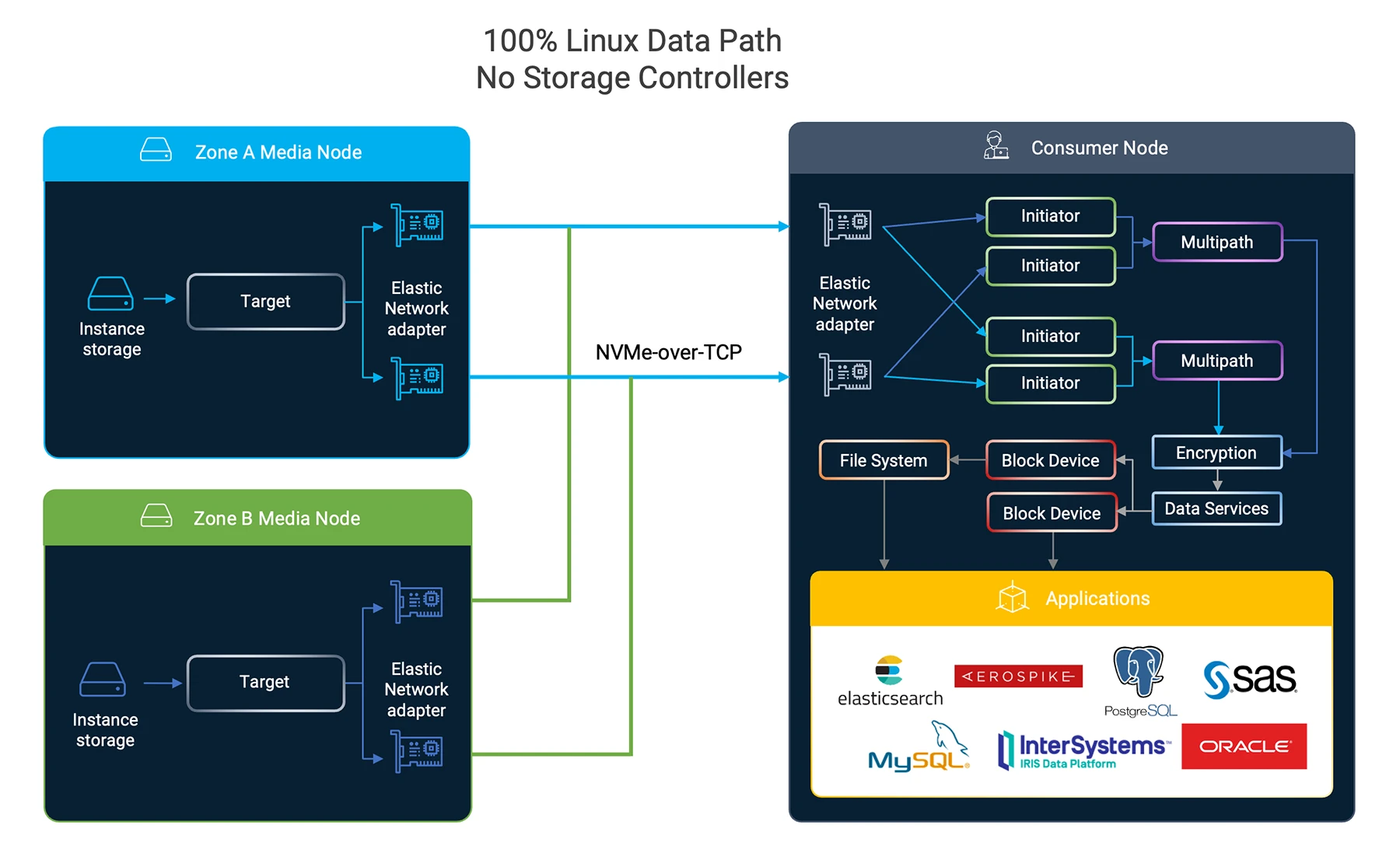 Volumez provides enterprise-grade data services including snapshots, encryption, and multi-zone resilience without the overhead of Elastic Block Store. Attaching a volume to an instance requires simply choosing the volume, node name (instance), and mount point.
InterSystems is the leading provider of data technology for extremely critical data in the healthcare, finance, and manufacturing and supply chain sectors. Its cloud-first data platforms solve scalability, interoperability, and speed problems for large organizations around the globe.
The InterSystems IRIS data platform combines operational and analytic capabilities with a comprehensive interoperability platform to deliver high performance for real-time analytics and mission-critical applications to enable companies extending their architecture toward smart data fabrics. InterSystems needed to assure agility and efficiency, as well as flexibility to dynamically allocate resources, optimize performance, and scale seamlessly, while maintaining full control of application I/O characteristics.
Volumez for AWS gives developers tools to deliver exceptional user experiences and maximize the value of their cloud deployments. Integration of Volumez and InterSystems IRIS data platform delivesr a fully managed and high-performance database-as-a-service, seamlessly integrating AI functionalities within the IRIS kernel. This empowers developers to harness valuable insights and make informed decisions, propelling innovation and driving business success. Results include efficient, scalable data management.